Spondylolisthesis In Knoxville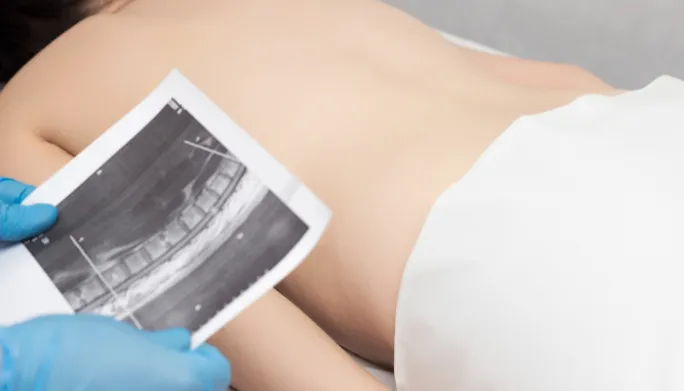 At our state-of-the-art physical therapy clinic, we provide an advanced and highly effective treatment program for Spondylolisthesis. This condition, characterized by one of the vertebra slipping forward over the bone beneath it, can lead to a range of symptoms including lower back pain, numbness, weakness, and limited mobility. We are committed to providing the best care to alleviate these symptoms and enhance our patient's quality of life.
When you first visit our clinic, our experienced team will conduct a thorough evaluation to determine the severity of your condition and create a custom-tailored treatment plan to meet your specific needs. We understand that each case of Spondylolisthesis is unique, with varying levels of discomfort and functionality. That's why we create individualized programs that target your specific challenges and goals.
How To Treat Spondylolisthesis In Knoxville
Our Spondylolisthesis treatment program primarily focuses on non-invasive techniques aimed at reducing pain, improving strength, and enhancing mobility. Physical therapy is an integral part of the management of this condition, and we employ a range of evidence-based techniques to bring about the best possible outcomes.
Pain Management: One of the initial steps in our treatment plan is addressing your discomfort. We employ gentle yet effective pain management techniques including thermal therapies (such as heat and cold), electric stimulation, and ultrasound. These methods are designed to reduce inflammation, increase blood flow to the affected area, and promote a state of relaxation in the back muscles.
Flexibility and Strengthening Exercises: Once your pain levels are managed, we move to the next critical stage – improving your flexibility and strength. By focusing on the core, lower back, and leg muscles, we can enhance your stability and lessen the stress on your spine. We use a combination of stretching exercises to increase flexibility and resistance exercises to strengthen your muscles. Our therapists will closely guide you to ensure you are performing these exercises correctly and safely, minimizing the risk of further injury.
Posture Education: Poor posture can contribute to the progression of Spondylolisthesis. We provide comprehensive education on maintaining good posture while standing, sitting, and lifting objects. Our therapists will demonstrate and guide you through the correct postural alignment to minimize stress on your spine.
Manual Therapy: As part of our integrated approach, we also provide manual therapy, where our expert therapists use their hands to apply pressure and movement to the affected areas. This therapy can help to improve mobility, reduce pain, and stimulate healing.
Patient Education: We believe in empowering our patients through knowledge. We provide ample education on Spondylolisthesis, its implications, and ways to manage it effectively. Our aim is to equip you with the necessary tools to prevent further slippage and maintain the gains made during therapy.
Lifestyle Modification: We understand that recovery from Spondylolisthesis extends beyond our clinic's walls. Our therapists will work with you to develop a lifestyle modification plan, which may include guidance on weight management, nutrition, proper footwear, and more, to reduce the strain on your spine.
Our primary goal is to assist you in returning to a pain-free and active life. We monitor your progress throughout your treatment journey, making necessary adjustments to your plan to ensure optimum recovery. Our treatment plans are designed not just to alleviate immediate symptoms, but also to promote long-term spine health. We ensure that all our patients are equipped with the knowledge and tools to manage their condition independently in the long run.
At our clinic, we take pride in offering a caring, supportive environment where our patients feel comfortable and encouraged. Our expert team is committed to your well-being and recovery. If you are struggling with Spondylolisthesis, we invite you to visit our clinic to begin your journey toward a healthier, more active life. Rest assured that with us, you will be treated with the utmost compassion, expertise, and personal attention.
Call Our Knoxville Clinic Today!
In conclusion, Spondylolisthesis, although a complex spinal condition, can be effectively managed with a comprehensive physical therapy treatment program. We firmly believe in the power of evidence-based, non-invasive methods to restore mobility, reduce pain, and improve the quality of life for our patients. Our clinic is committed to helping you navigate this journey with expert care and personalized attention. We are ready to help you reclaim your health, one step at a time.
Reach out to us today to start your journey to recovery with our world-class Spondylolisthesis treatment program. Let us partner with you in achieving better spinal health and an active, pain-free life.
Request An Appointment
Please fill out this form and
we will contact you about scheduling.


Margaret Neate

I am so pleased with all the positive experiences I have had with Alina Marino in physical therapy. I was in so much pain that I thought I would have to see my spine specialist recently for leg pain, but I saw Alaina first. She understood exactly what had happened to both my nerves and muscles and how to ease the pain and move forward with treatments. I was amazed at how much she knows and explains so well. Also, the assigned exercises are not overwhelming as they have been in the past with other PTs, which makes them easier to do everyday.


joanna tinker

Save time and stop here first!  I'm so thankful to have finally found Marino Physiotherapy in my long journey to getting my body healthier and stronger.  I've struggled with low back issues for 20+ years and have tried numerous Chiropractors, PTs and other therapies to address the issue.  In a very short time (1month) I feel like I have made more progress than I have in years.  The Marino team is professional and compassionate.  Danny has been encouraging and  given me many tools to both understand and help my body work better with less pain.  I love that they offer workshops and so many varied therapy options.  This is no average run-of-the-mill PT clinic. The Marino team is  comprehensive, educational, compassionate, and effective care.