Greeter and Professional Fist Bumper
I live with my mommy and daddy and 2 pups in West Knoxville and have extensive experience in greeting patients with fist bumps and blowing kisses. This is my first real job and so far I have a lot of fun when I come to work.
I like to smile, laugh, run around, jump, and say "Hi" to people. I am getting better at sweeping, and have some serious toy throwing skills – so Mom can work on her squats and lifting demonstration skills.
Smile at everyone, give hugs, blow kisses, and yell MOMMY! often.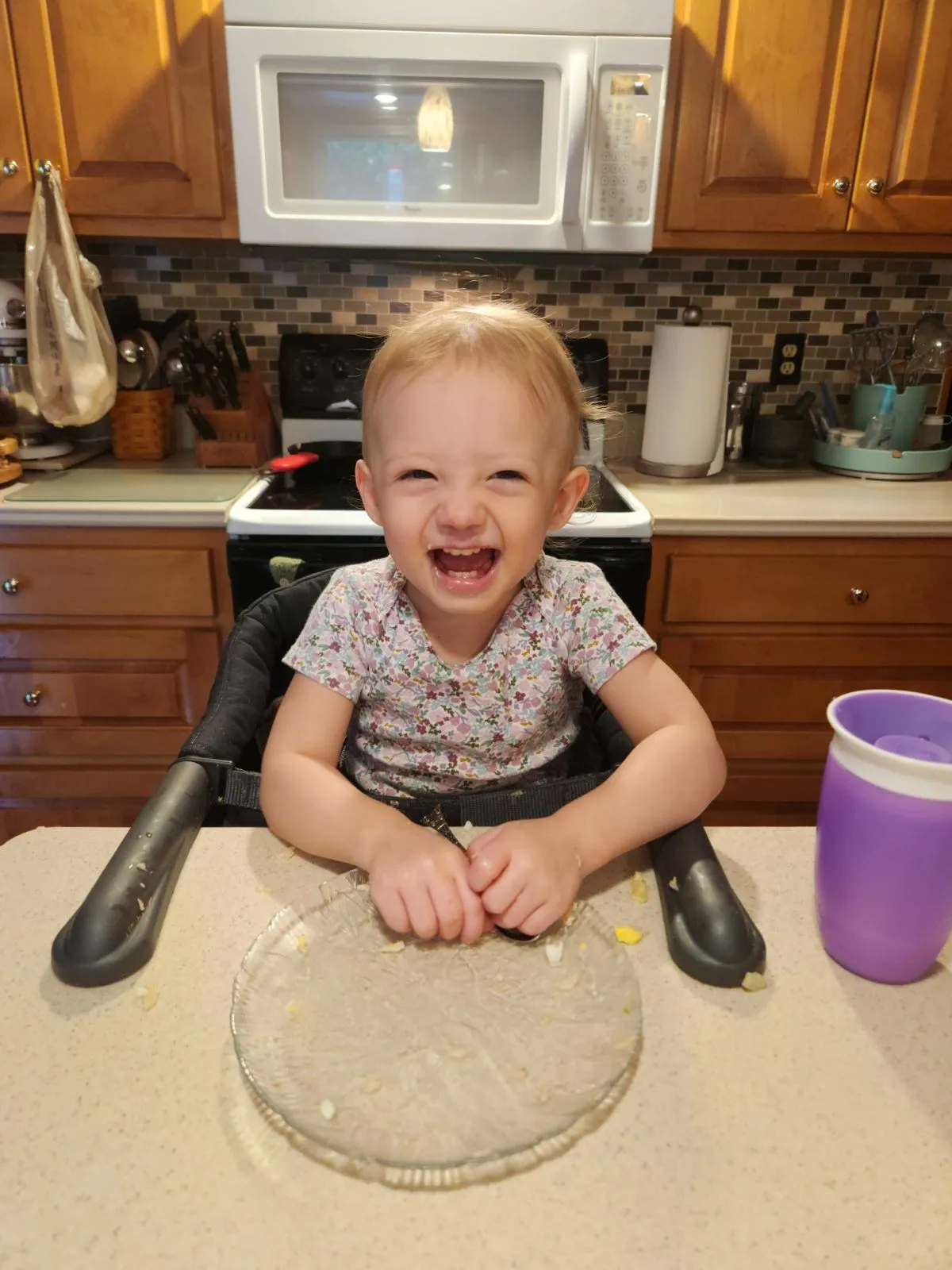 My favorite things to say are "Up!" (while reaching both arms to you for a hug) and "Happy!" (Her favorite word from "You Are My Sunshine")
I am a first class greeter, social media model, fist bumper, and thrower of toys and Cherios. Sometimes I serve as an emotional support baby to help brighten your day, other times I yell loudly to make sure your ears (or hearing aids!) are working. Mostly I work to demonstrate proper squatting technique and how to jump up and down.
I want our patients feel better, so I try to help them Smile!
I like helping treat All of the conditions! Doesn't everyone feel better when I smile and welcome them to therapy?
Something I love about working here is that all the patients say "Hi!" and wave and smile at me.
What is Amelia Watching, Reading, or Listening to?
I'm not old enough for movies yet, but I like to dance to Cocomelon songs.

I like to sing songs of my own creation, the Wheels on the Bus, You Are My Sunshine, and some Encanto songs.

My favorite books right now are Good Morning Farm Friends, The Grouchy Lady Bug, The Wheels on the Bus, and Dandelion Magic.

My favorite toys are my Bedtime Bear Carebear, my puzzles, my singing teapot, and my grocery cart.
When I'm not making everyone's day brighter at Marino Physiotherapy, I love rocking on my Rocking Elephant, running in the grass, playing Bubbles, making scribbles, playing in the water, and going to the Zoo.
I just love seeing the cute little faces she makes and when she waves to me! – Julia C.
I look forward to seeing Amelia every time I come to therapy! – Lois
This place is great! It's not only clinical but a great family atmosphere. – Connie